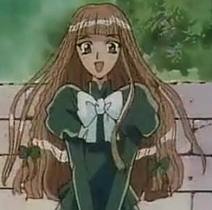 Kuu is Fuu's older sister. Not much is known about Kuu, but it is shown she likes sweets from the Tokyo Tower. Kuu appears in the anime and manga. She is one of Fuu's only known members of her family. She and Fuu seem to have a good relationship with each other though. Kuu especially likes the chick pastries they give at the tower. In the second season, she asks Fuu if she needs advice of has someone to talk to. Kuu is shown to wear a green dress uniform with puff sleeves. She also has long brown hair and green eyes, like Fuu. Kuu has been shown to be kind and caring to others, especially to her little sister Fuu. It is unknown how old she is, but she must be over fourteen.
Ad blocker interference detected!
Wikia is a free-to-use site that makes money from advertising. We have a modified experience for viewers using ad blockers

Wikia is not accessible if you've made further modifications. Remove the custom ad blocker rule(s) and the page will load as expected.